Our Students
The big Kahuna
You know what? We love flying,and we love teaching people who want to learn how to fly!
From the first test ride up to the the first solo as a fully-fledged private pilot (or CFI, or for Instrument Rating, or Commercial Pilot...), this is trip is always a blast! You will always have great instructors you can work with, our planes are well maintained, our facilities include a Redbird simulator, so even bad weather isn't a barrier, and the experience is always amazingly fun.
We've trained so many students, and our grads are terrific!
Some of our recent successes!
Congratulations, Michael Schnitt on receiving your Private Pilot License!!!🎉🎉🎉.
Bravo and Thank You CFI, Hunter Williams!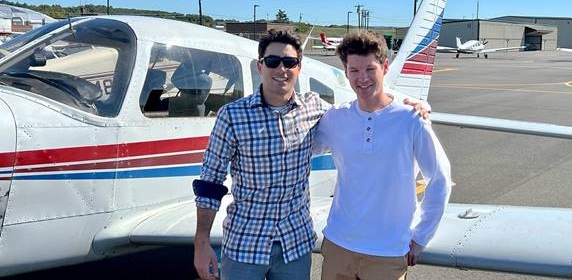 Another Private Pilot!
Congratulations Avery Tait!
Thank you for trusting our school to help you achieve a goal!
CFI James Rosborough, you are awesome!
A new Private Pilot!
Congratulations Chris Constantino!
So much hard work, dedication, and patience!
Thank you DPE Bob Nardiello and CFI Zev Dekoff for getting Chris to the finish line!!!
Our newest solo student, Brian Wallace!
Congrats on your first three solo take offs and landings
Thank you CFI Zev Dekoff!